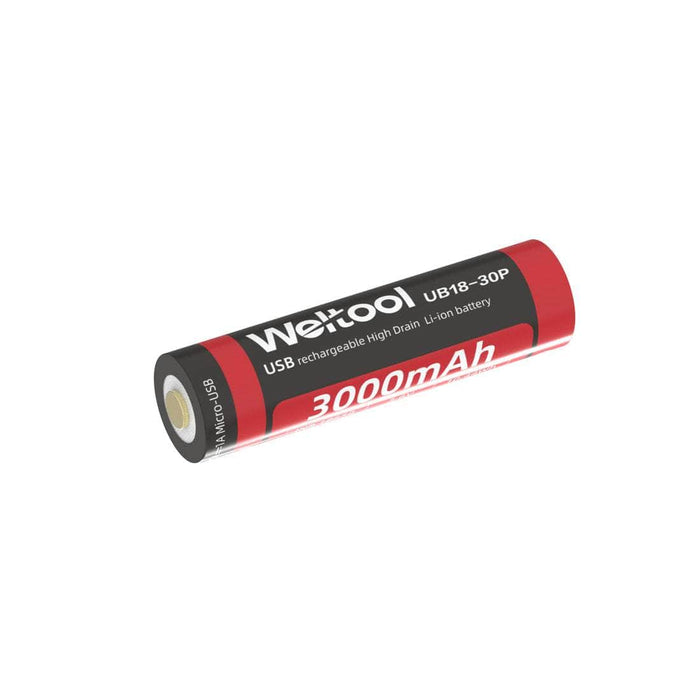 Weltool UB18-30P High Drain 10A 3000mAh USB Rechargeable 18650 Li-ion Battery
Sold out
Original price
$ 23.50
-
Original price
$ 23.50
Free shipping for orders over $100. Any order containing lithium batteries is at risk of abnormal shipping delays. UPS is highly recommended for any order containing batteries. UPS Ground is required for orders only containing batteries and not meeting the free shipping threshold even if other options are available during checkout.
Weltool UB18-30P High Drain 10A 3000mAh USB Rechargeable 18650 Li-ion Battery
The traditional Li-ion battery with protective plate is the nickel plate connection method for the negative protection circuit, while the Weltool UB18-30P uses the built-in protection circuit in the battery positive technology, the steel shell is riveted and integrated with the battery core, effectively avoiding short circuit caused by collision or wear and so on,and will not increase the battery diameter.
    The Micro USB charging interface is set in the positive protection circuit. It can be connected to the USB charging cable to connect the 5V adapter to charge the battery directly, or the USB interface of the computer with high current output. It can also be connected to the mobile power source to charge the battery. You can also put the battery into the  charger in the Charging; there is a charging indicator on the battery to indicate the charging status.
    Selected 18650 Li-ion battery cells, low internal resistance, high capacity, large discharge current; battery has triple overheat protection: pressure safety valve protection, diaphragm micro hole protection, PTC cathode blocking protection and positive protection circuit with four protections : Overheat protection, overcharge protection, over discharge protection and short circuit protection. The battery positive cap is raised. It is used in the flashlight to contact the positive spring or the PCB contact surface is tighter. Single or multi-cell batteries can be used at the same time.