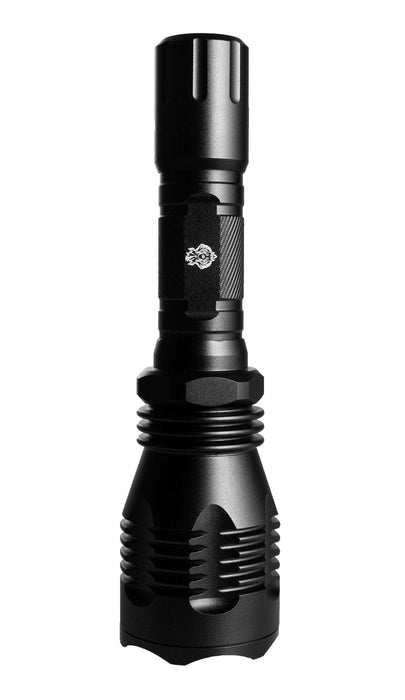 KZ251G Green LED Standard Kit
Original price
$ 84.99
-
Original price
$ 84.99
Free shipping for orders over $100. Any order containing lithium batteries is at risk of abnormal shipping delays. UPS is highly recommended for any order containing batteries. UPS Ground is required for orders only containing batteries and not meeting the free shipping threshold even if other options are available during checkout.
KZ251G Green LED Standard Kit | Hog Hunting Light
The KZ251G is a high power, durable air-craft grade aluminum flashlight utilizing proprietary CREE LED's great for hunting hogs, predators or varmints on the darkest nights. This high powered green LED light has a range of up to 250 yards at an awesome price! With the KZ251G flashlight the hunting does not stop when the sun goes down! You will be prepared to go after and get more hogs, predators and varmints by adding this flashlight to your favorite rifle. The KZ251 is a new flashlight that will become our most popular flashlight because of its perfect blend of size and brightness. It also has a pressure switch that will do both click on/off and momentary on/off. This KZ251 standard kit will give you everything you need to run, charge and mount one flashlight to your favorite rifle at a competitive price!


What is included in the KZ251G green LED Standard Kit?


1.) One high power aluminum green CREE LED flashlight capable of spotting a hogs, coyotes and varmints out to 250 yards. Light up their eyes out further than that!
2.) One EVVA (Samsung Core) 2600mAh 18650 lithium battery
3.) One single channel XTAR MC1 18650 USB battery charger. USB adapters sold separately. 
4.) Lanyard
5.) Regular tail cap switch
6.) Pressure switch that can be mounted on your rifle to turn on the light by either clicking the on/off button or using momentary pressure pad.
7.) Universal rapid mount
8.) Scope to Picatinny adapter
9.) AR picatinny mount
10.) Shotgun/Bow Stabilizer mount
11.) All of this in a plastic hard case for storage/protection or to give away as a present


The KZ251G model only comes with one mode... full brightness and off. The last thing you want is to have a great shot and then accidently turn on a strobe light!


So why should you purchase this flashlight kit over other light packages from other companies in the same price range? This package gives you everything you need to run, charge and mount the flashlight to a 1 inch or 30mm scope, AR and various other setups due to the universal nature of the mounts. The light comes with a EVVA battery which is thought to be the gold standard for 18650 lithium ion batteries within the flashlight community. We pair the EVVA battery with a XTAR MC1 battery charger that will allow you to charge the battery utilizing any USB port so you can charge at home or on the go. XTAR is highly regarded as one of the best charger manufacturers.  In addition to the reasons above we warranty the light for 3 years and cover use, abuse and accidents!  
The LED module and pressure switch in the KZ251 are not compatible with the KZ250
Lifespan for led bulb is over 50,000 hours
Weight: 11.1 oz. with battery installed.
Overall Length: 8 inches Deep smooth reflector for long distance beam.
Water resistant Heavy recoil and impact resistant
Operating temperature: Minus -20 ~ 105 degrees Fahrenheit
Precision machined T6 Aircraft grade aluminum with type III hard anodization