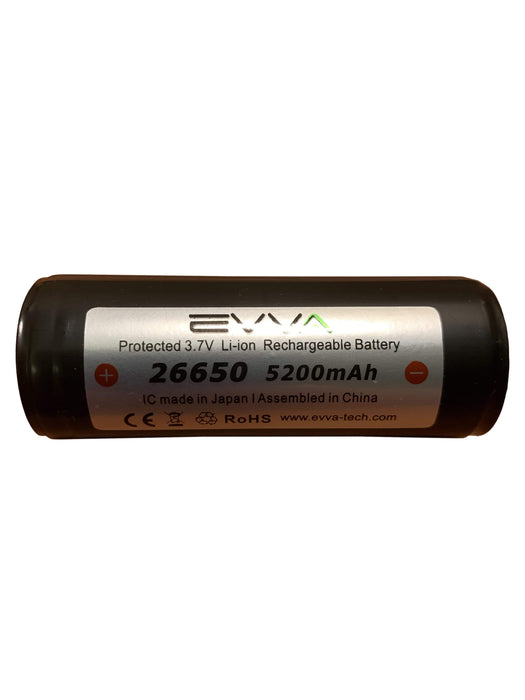 EVVA Protected 26650 5200mAh
Original price
$ 17.49
-
Original price
$ 17.49
Free shipping for orders over $100. Any order containing lithium batteries is at risk of abnormal shipping delays. UPS is highly recommended for any order containing batteries. UPS Ground is required for orders only containing batteries even if other options are available during checkout.
EVVA Protected 26650 5200mAh Battery for Flashlights
***Batteries purchased without any equipment they can operate must be shipped with ground shipping. If you purchase only batteries and no flashlights/headlamps you must select UPS/Fedex Ground unless your order meets the free shipping threshold.***
Specifications  
Product Name

26650 Protected lithium battery 5200mAh

Supplier

EVVA TECHNOLOGY CO.,LIMITED

Nominal voltage

3.7V

Nominal capacity

5200mAh

discharge at 0.2C mA

Stanard Charge voltage

4.20V ( Full Charged Voltage )

Standard Charge current

2000mA

Charge Time(Std.)

3 hours

Discharge cut-off voltage

2.75V

PCB Protection trip current

about 10A

Operating environment 

Charging, 0°C ~ 45°C ;  65±20%RH  

Discharging, -20°C~60°C ;  65±20%RH

Storage environment

-20°C~60°C; Less than 1 month

-20°C~60°C; Less than 3 months

Cell Weight )

95g approx.

Cell Dimension

(L)70.20mm*(D)26.50mm max.