Armytek Predator Pro Magnet USB
Free USPS shipping for orders above $49.99. Most orders ship within 24hrs. Any order containing lithium batteries is at risk of abnormal shipping delays. Do not upgrade shipping to USPS, upgrade to UPS instead.
---
Hurry, low quantity!Only 10 left in stock.
DESCRIPTION

THE MOST LONG-THROW TACTICAL FLASHLIGHT FROM ARMYTEK NOW WITH MAGNETIC CHARGER
Predator Pro is a tactical model with a narrow beam of impressive throws for specialized tasks and hunting. The new generation flashlight has retained the best characteristics of the previous version while receiving a high-tech update.
A clear central spot with minimal side spill allows illuminating objects at a distance up to 501 meters. Ideal for use at a distance of 100-300 meters. The flashlight is supplied with a fast magnetic charger and a 18650 Li-Ion 3500 mAh battery. It can be used right out of the box and charged from any USB power source: a wall or car adapter, as well as a Powerbank.
Silicone grip, noiseless tail tactical button, compatibility with any weapon mounts, original remote switches, and color filters: well-thought-out design guarantees the most efficient tactical application.
WELL-THOUGHT-OUT SET OF ACCESSORIES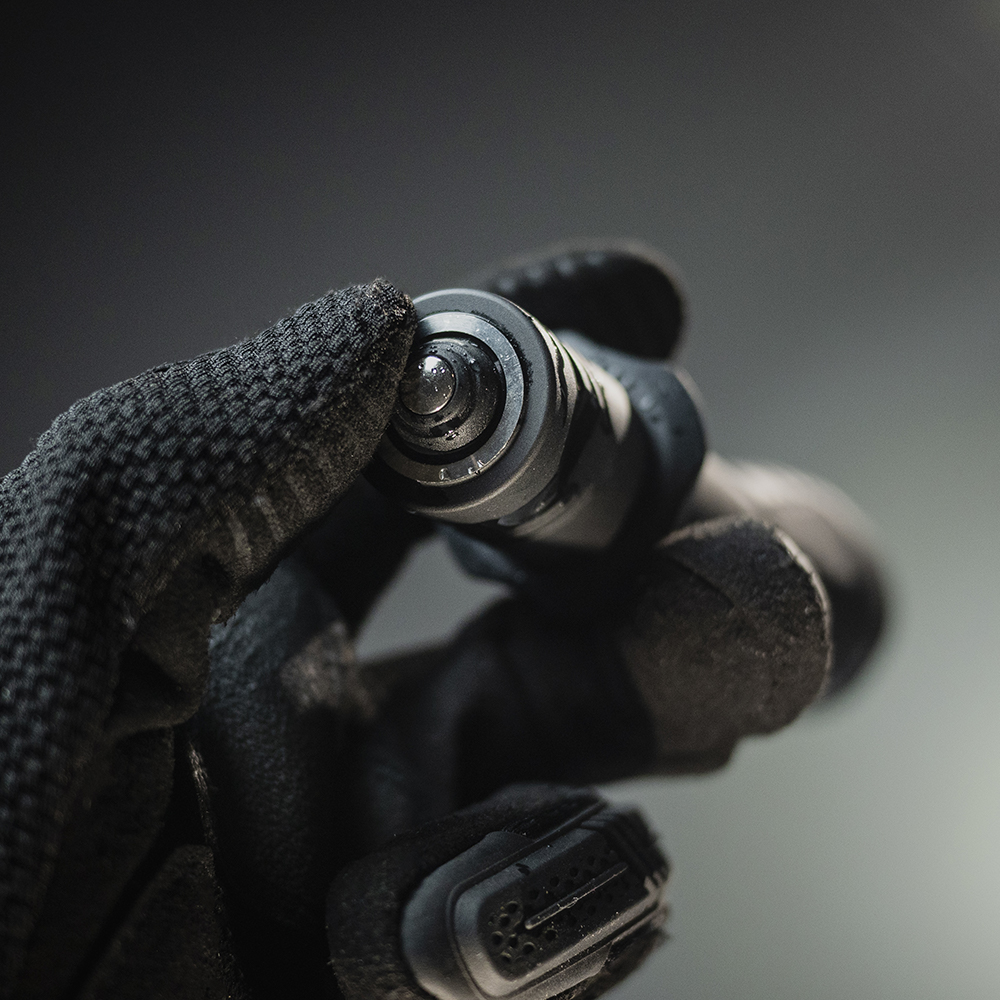 GRIP
Injury-safe ergonomic silicone grip for convenient tactical hold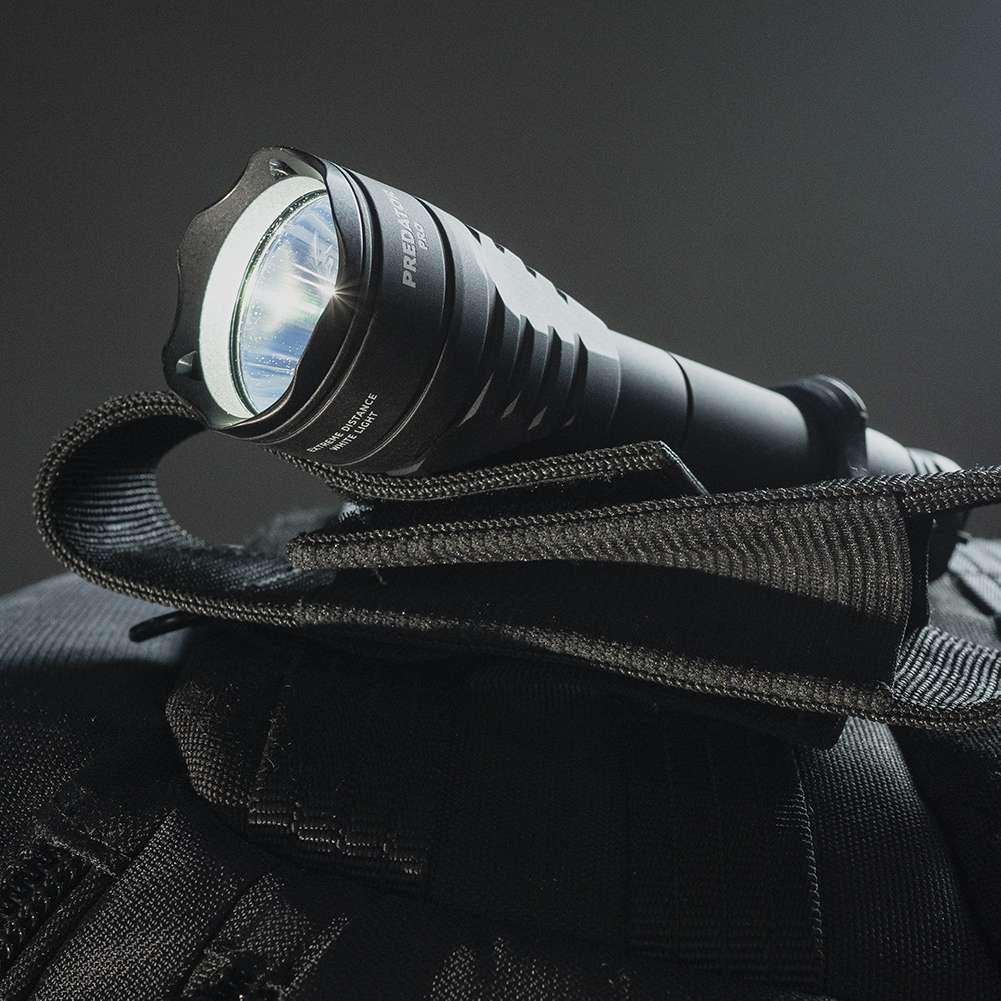 HOLSTER
Heavy-duty nylon holster with several fixing options: on a belt of any width, on a Molle mount, on equipment thanks to the durable steel ring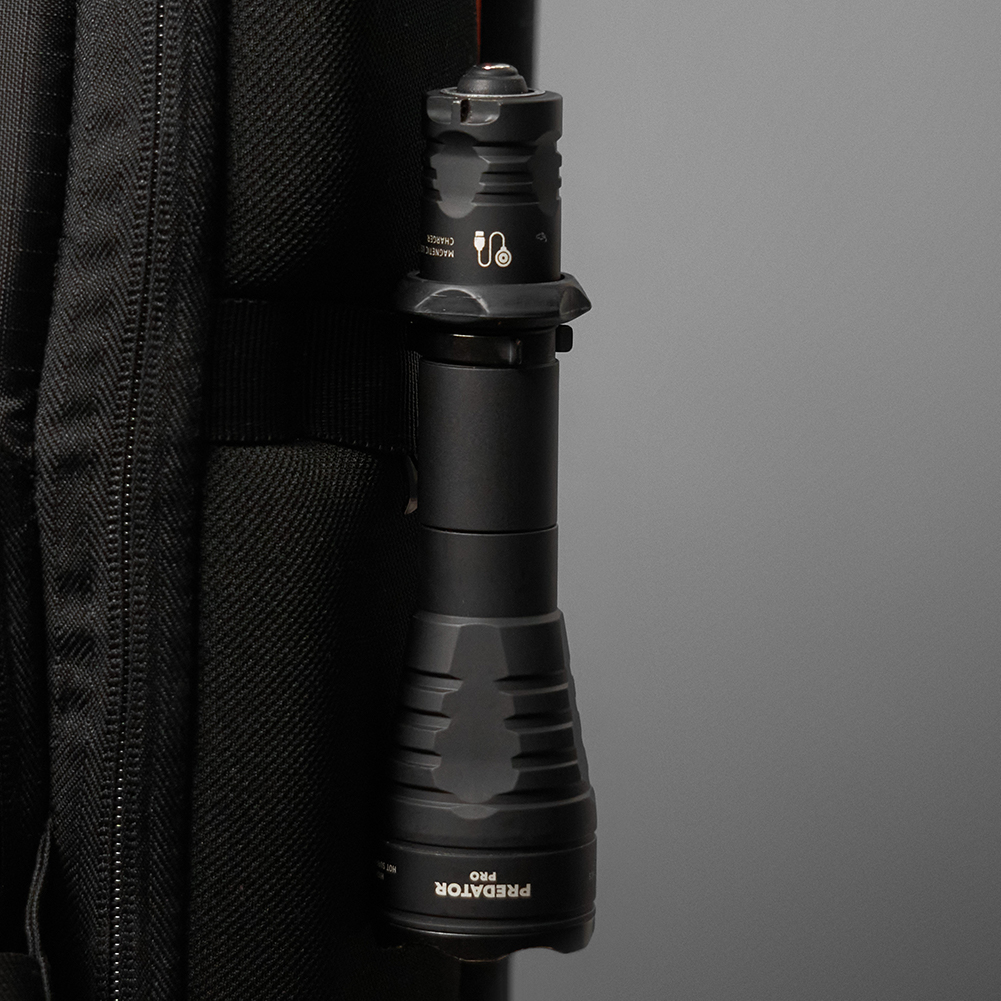 CLIP
Steel clip with wear-resistant black titanium coating for mounting on clothes, equipment, or belt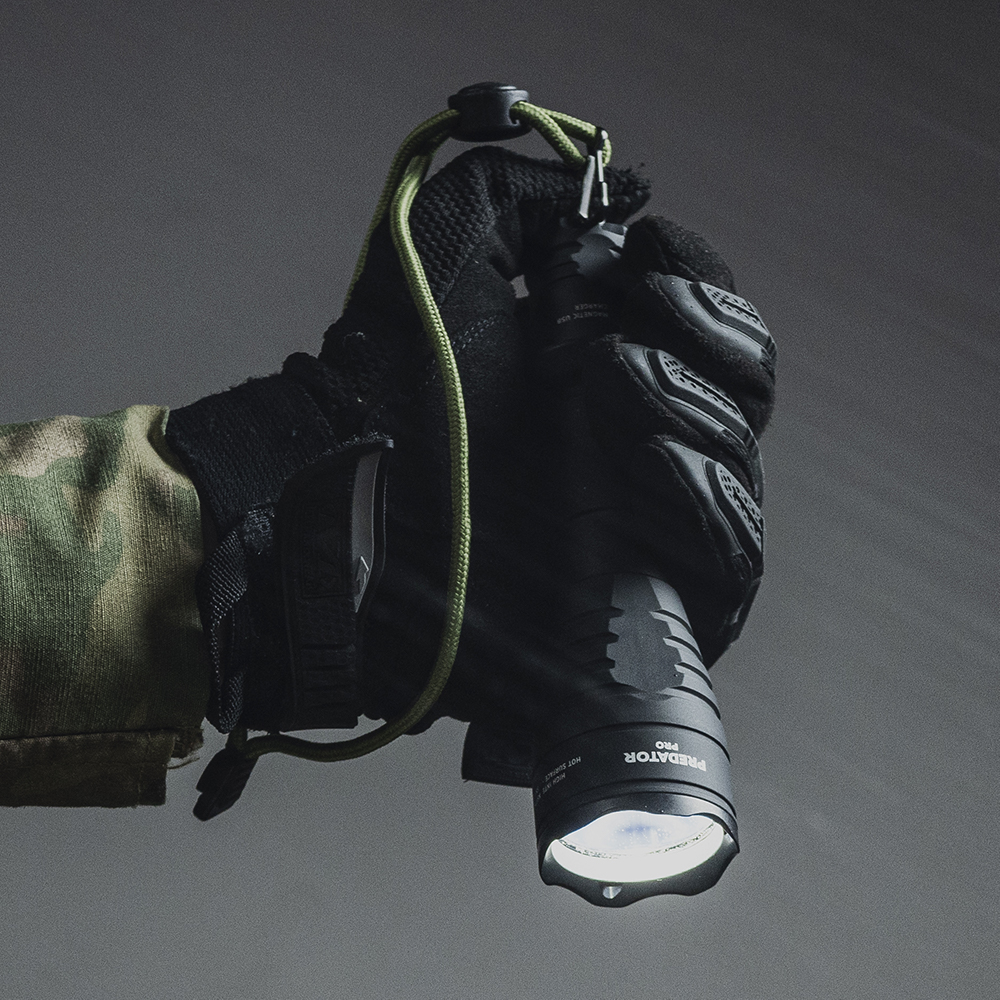 LANYARD
Size-adjustable wrist lanyard made of heavy-duty paracord and steel carabiner for quick removal and installation on the flashlight
NEW FEATURES OF PREDATOR PRO
Maximum throw distance: special precisely calculated reflector for High Intensity LED modification, which provides 1.5 times the light range compared to a usual LED, and tempered glass with anti-reflective coating for maximum throw create a clear central spot with minimal side spill at 1500 lumens brightness. The spill diameter is 9 meters at 100 meters distance.
Innovated electronics and firmware: optimized runtimes and enhanced brightness.
New tactical button: noiseless electronic button prevents disclosing location when hunting or during special operations.
Fast magnetic charger: supplied 18650 Li-Ion 3500 mAh battery is charged in 3 h 40 min.
Improved springs: new springs for better protection of the battery and driver and increased performance efficiency.
Increased reliability: special placement and fixation of the driver in the flashlight body.
Stylish body: matte anodizing, laconic style, new corporate branding.
Extended set: high capacity battery 3500 mAh and fast magnetic USB charger included. The flashlight is ready to use right out of the box.
Compatibility with magnetic remote switch: optional magnetic remote switch for momentary-on (only when the button is pressed) and for constant light. Easy one-motion connection, no need to unscrew the tail cap.
ADVANTAGES OF TACTICAL FLASHLIGHTS WITH MAGNETIC CHARGER
Pro Powerful electronics provide constant brightness even at a temperature of -40 °C and not a fully charged battery.
Pro Two types of operation: hunting and tactical. Tactical operation for quick access to maximum brightness mode and Strobe mode.
Withstands any recoil due to improved springs and installation of the driver inside a reinforced capsule filled with protective compound.
Standard 1 inch body is compatible with any accessories, including the original magnetic remote switch and a magnetic mount for quick one-motion attachment and removal.
Two-phase electronic buttons retained two levels of pressing similar to a mechanical switch but became noiseless and 20 times more durable.
The non-flat button allows you to easily switch the flashlight with a palm.
Innovative technology allows using any 18650 Li-Ion batteries with 10A discharge current and provides full protection against short circuits even in case of contact between the magnetic connectors and metal objects.
Solid-body made from aircraft-grade aluminum, special matt anti-abrasive finish without rough knurling.
Steel striking bezel with matte non-reflective black titanium coating, which prevents location disclosure, is used for additional protection of the optical system in the event of a fall and as a shock-crushing tool.
Active real-time temperature control to prevent overheating above +58 °C and warning indication of low battery level.
Total protection from water, dirt, and dust in accordance with IP68 standard — flashlight continues to work even at 25 meters depth up to 5 hours. Withstands fallings from the 10th floor.
Robust and water-resistant magnetic connector.
No hassle warranty 10 years.
18650 Li-Ion battery (3500 mAh) is included in the set.
Light & Optics

Color temperature: White or Warm
Light output, lumens: 
1500
lumens white / 1400 lumens warm
Beam distance, meters: 
501
meters white / 494 meters warm
Brightness stabilization type: 
Full (constant light)
Modes


Runtime in maximum mode: 
1 h 33 min (700 lm after 3 min)
Runtime in minimum mode: 
32 h
Dimensions & Weight


Weight (without battery): 
136
g

Body

Material: Aircraft-grade aluminum
Anti-abrasive Finish: 
Premium type III hard anodizing 400HV
Waterproof and dustproof standard: 
IP68
Safe submersion depth: 
25
m
Safe fallings height: 
25
m
Operating temperatures: 
-40..+40
°C


Electronics


Battery compatibility: 
1x18650 Li-Ion

Ability to use batteries with PCB: Yes

Ability to use batteries without PCB: Yes
Protection from accidental switch-on: Yes
Color battery state indication: No
Indication of low battery level: Yes