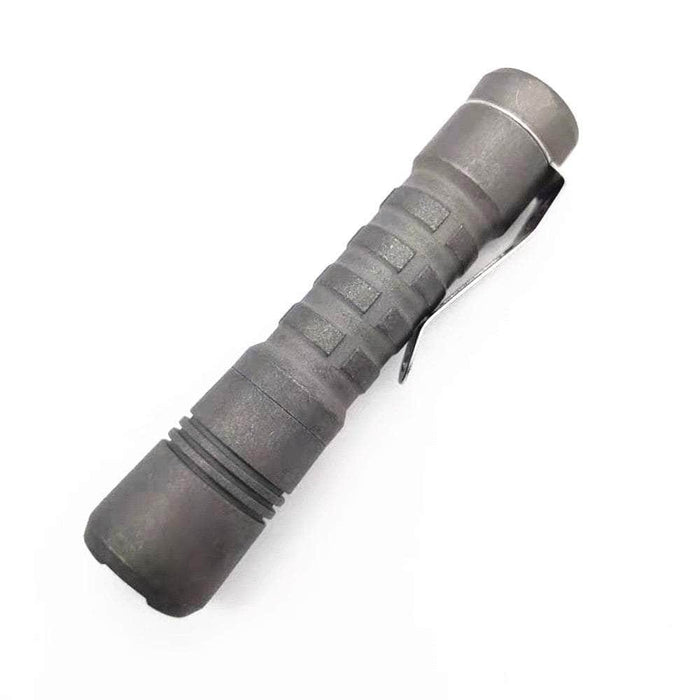 ReyLight Pineapple Titanium
Sold out
Original price
$ 80.00
-
Original price
$ 80.00
Free shipping for orders over $100. Any order containing lithium batteries is at risk of abnormal shipping delays. UPS is highly recommended for any order containing batteries. UPS Ground is required for orders only containing batteries and not meeting the free shipping threshold even if other options are available during checkout.
 ReyLight Pineapple Titanium
A mere few years ago, no one had even heard of this amazing piece of lighting technology. It would have been impossible to find a model of this caliber that was both small and powerful, and it most definitely would not have been offered at such a low cost.

Every day carry (EDC) was taken into consideration when the ReyLight Pineapple Titanium flashlight was created. It can be concealed in the palm of your hand without taking up much space because it is powered by a 14500 lithium-ion battery. There is currently no comparable product available on the market at its price point. It's a fantastic experience you can use in your daily life, and it also happens to be a gorgeous flashlight your friends will be envious of. The Nichia 219b, which was used to create the Relight Pineapple, has a stunning color that is highly desired by flashlight enthusiasts all over the world.

The ReyLight Ti Pineapple helps to ensure that it operates in accordance with the owner's preferences by providing an intuitive and simple-to-customize user interface with a variety of mode groupings. The ReyLight Pineapple is a portable lighting source that can be used at home or anywhere else in the world to fulfill your daily lighting needs. The ReyLight Pineapple flashlight has a beautiful design, amazing functionality, and an appealing aesthetic. Due to Rey's attention to detail the ReyLight Pineapple Ti has superior construction, superior design and premium components. Any true gearhead should have it in their collection because it is a necessary addition.

A rechargeable 14500 battery is included with the purchase of the ReyLight Pineapple Titanium Light. (It is recommended that you use an unprotected cell because a protected one is significantly longer; as a result, it may apply excessive force to the spring and result in an issue.)


ReyLight Pineapple Ti Specs:
Material: solid titanium
Nichia 219B SW45K R9080
Reverse polarity protection
LVP (low voltage protection) for Li-ion battery
Temperature control to avoid overheating problems
Anti-reflective coated lens
Aluminum alloy  reflector
Easy clicky switch operation
Tail-stand capability
Pocket clip
Dimensions: 3.8 x 0.8 in (9.7 x 2.16 cm)
Weight: 3.3 oz (65 g) without battery
Spare O-rings
1 tritium slot at the tail switch.
** Second photo shows the raw Pineapple on the left, and stonewashed on the right **
ReyLight Pineapple Titanium Programming Guide
1. Turn on the light.
2. Press the button 8+ times. The light will now blink once, then strobe, blink twice, then strobe, blink three times, then strobe…After 5 blinks and a strobe, the sequence repeats.
a. 1 blink: mode group selection. Press the button to enter this menu.
i. 1 blink: (ML)-2%-20%-100%
ii. 2nd blink: (ML)-10%-40%-100%
iii. 3rd blink: (ML)-2%-10%-50%
iv. 4th blink: (ML)-50%-100%-strobe-SOS
It then repeats. Press the button during any blink to select that mode group.
b. 2 blinks: mode memory on-off toggle (default off). Press the button during the two blinks or during the strobe after to turn mode memory on. Repeat to turn mode memory off.
c. 3 blinks: moonlight mode off-on toggle (default on). Press the button during the three blinks or during the strobe after to turn moonlight off. Repeat to turn moonlight on.
d. 4 blinks: mode order toggle (default LMH). Press the button during the four blinks or during the strobe after to change the mode order from Low Medium High to High Medium Low. Repeat to reverse the order.
e. 5 blinks: factory reset. Press the button during the five blinks or during the strobe after to reset the light to factory settings.
Shortcut: quick double-tap to turbo.