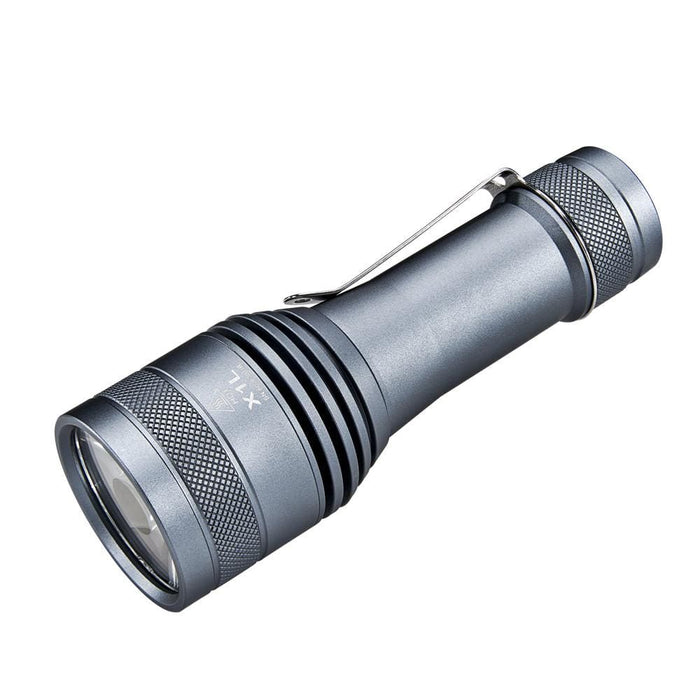 Lumintop FW21 X1L
Sold out
Original price
$ 55.95
-
Original price
$ 55.95
Free shipping for orders over $100. Any order containing lithium batteries is at risk of abnormal shipping delays. UPS is highly recommended for any order containing batteries. UPS Ground is required for orders only containing batteries even if other options are available during checkout.
Lumintop FW21 X1L Flashlight
Features
Emitter: Single Osram KW CULNM1.TG_CN LED on a copper DTP MCPCB
Optic: New and focusing type Optical Lens
Lens: Glass with anti-reflective coating
Flux: 750 lm
Intensity: ~135900cd ANSI throw ~780m
Modes: Three general modes, plus hidden Eco and Turbo
Battery: One flat-top unprotected 21700 or 18650 Li-ion battery
** Battery is not included **
Low-voltage and over-heat protection
Driver: FET+7+1 driver. Low parasitic drain while OFF
Body: Aluminum with hard-coat anodizing
Switch: Electronic tail switch
Ingress rating:  Equivalent to IPX8
Weight: Approximately 114.2g without cells
Size: 118*40*25mm
Accessories: 1*Manual, 1*18650 battery adapter, 2*Spare 0-ring
Lumintop FW21 X1L Specifications
ANSI/NEMA FL1
Eco
Low
Med
High
Turbo
Output
10LM
40 LM
400 LM
600 LM
750 LM
Runtime
470h
16h
15h 05min
14h 30min
15s+1.5h
Distance
780m (Max)
Intensity
135,900cd (Max)
Impact Resistant
1.5m
Waterproof
IPX8, underwater 2m
Notice: The above approximate data are lab-tested by using a Samsung INR 21700 30T Li-ion battery. The runtime is accumulated due to over-heat protection, and it may vary due to the difference of environment and batteries.
Operation Instruction
General Modes: Low-Med-High; Hidden Modes: Eco, Turbo
ON/OFF: One click for on, press and hold for 1 second for OFF. When the light is on, tap the switch to cycle through general modes.
Eco: Press and hold the switch for 1 second from OFF, another click will enter the general mode.
Turbo: Double clicks from ON, another click will enter the general mode.
Instant High: Double clicks from OFF will enter High mode, another click will enter the general mode.