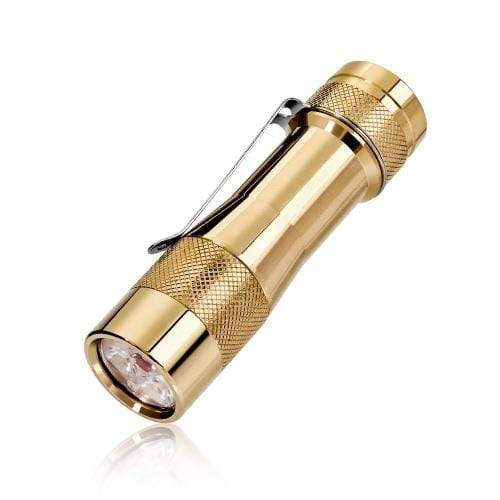 Lumintop FW3A Brass
Sold out
Original price
$ 67.95
-
Original price
$ 67.95
Free shipping for orders over $100. Any order containing lithium batteries is at risk of abnormal shipping delays. UPS is highly recommended for any order containing batteries. UPS Ground is required for orders only containing batteries even if other options are available during checkout.
Lumintop FW3A Brass Flashlight



Thank you for supporting this community project. The FW3A was designed by Fritz15 and the flashlight forums TLF & BLF. Brought to life by Lumintop. It is an ultra-compact and high-intensity flashlight with the only 92.5mm in length, and it delivers a max 2800 lumens amazing output by one 18650 battery. The metal and electronic tail switch control various functions including smooth ramping, stepped mode setting, strobe, etc. It is the EDC flashlight choice best if you are a flashaholic, flashlight collector, etc.
FW3A Brass is the brass material version FW3A.
Lumintop FW3A Brass Specifications
Emitter: 3 Cree XP-L Hi or Luminus SST20 LED
Optic: Standard TIR Carclo 10511 optical lens
Flux: ~2800 lm (XP-L Hi)
Intensity: ~10 000cd ANSI throw ~200 m (XP-L Hi)
Firmware: Free software called Andúril
User interfaces: [1] Defaulted SMOOTH RAMPING. Instant access to TURBO mode is also provided. [2] STEPPED RAMPING UI. [3] MOMENTARY mode. [4] MUGGLE mode. [5] Electronic LOCKOUT.
Other functions: Battery check, sunset, beacon, tactical strobe, party strobe, bike flasher, candlelight, lightning storm
Battery: One 18650 cell. An unprotected cell is recommended. Max. length 66mm. Battery is not included.
Driver: FET+7+1 driver. Low parasitic drain while OFF
Body: Brass with knuring and pollishing finish
Switch: Electronic tail switch
Ingress rating: Equivalent to IPX8
Weight: Approximately 120 g without cells
Size: 25.5 mm Ø head x 92.5 mm length.