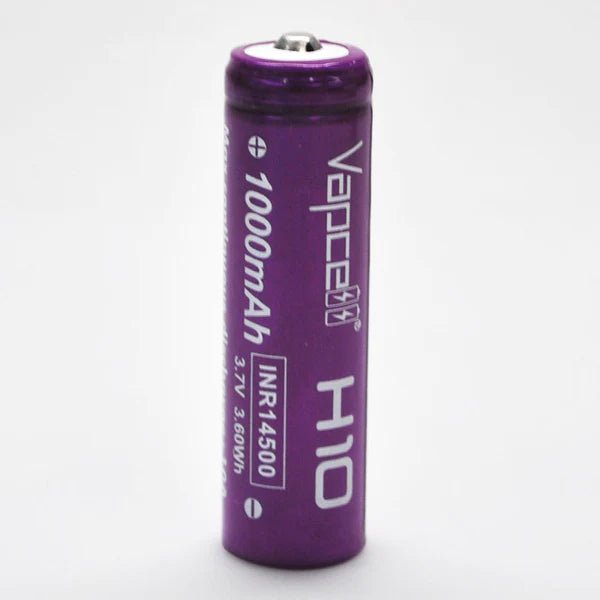 Vapcell H10 1000mAh 14500 Purple/White 10A Button Top
Original price
$ 5.99
-
Original price
$ 5.99
Free shipping for orders over $100. Any order containing lithium batteries is at risk of abnormal shipping delays. UPS is highly recommended for any order containing batteries. UPS Ground is required for orders only containing batteries even if other options are available during checkout.
Vapcell H10 1000mAh 14500 Purple/White 10A Button Top
The Vapcell 14500 10A 1000mAh is a rechargeable 14500 battery that is designed for use in flashlights and other electronics. It is a high-quality battery with the following specifications: it has a size of 14500, with a diameter of approximately 14.3mm, and a length of around 51.35mm. It is manufactured by Vapcell and has a maximum discharge current of 10A. The typical capacity rated by the manufacturer is 1000mAh, while the nominal capacity is 900mAh. Its nominal voltage is 3.6V, and it has a peak voltage of 4.2V. This battery is not protected and has a button top style. It comes in purple and white colors and has its origin in China.
The Vapcell 14500 is a suitable choice for various flashlight models due to its maximum discharge current of 10A and nominal voltage of 3.6V. Its compact size and high capacity make it an excellent option for those who require reliable and long-lasting power for their flashlights.
PRICED PER BATTERY, NOT PER PAIR.

VAPCELL 14500 10A 1000MAH SPECIFICATIONS:
• Size: 14500
• Approximate Diameter: 14.3mm
• Approximate Length: 51.35mm
• Brand: Vapcell
• Manufacturer Rated Max Discharge Current: 10A
• Manufacturer Rated Typical Capacity: 1000mah
• Manufacturer Rated Nominal Capacity: 900mah
• Nominal Voltage: 3.6V
• Peak Voltage: 4.2V
• Protected: NO
• Style: Button Top
• Color: Purple and White
• Origin: China
***Batteries purchased without any equipment they can operate must be shipped with ground shipping. If you purchase only batteries and no flashlights/headlamps you must select UPS Ground even if other options are available unless your order meets the free shipping threshold.***