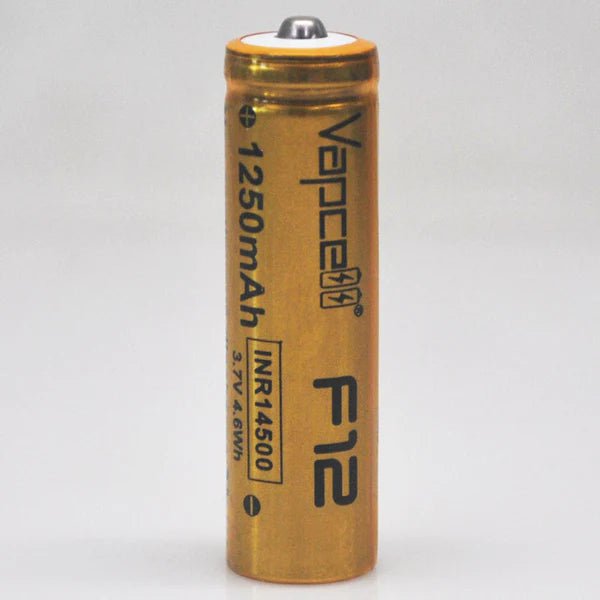 VAPCELL F12 1250mAh 14500 3A Button Top
Original price
$ 5.99
-
Original price
$ 5.99
Free shipping for orders over $100. Any order containing lithium batteries is at risk of abnormal shipping delays. UPS is highly recommended for any order containing batteries. UPS Ground is required for orders only containing batteries even if other options are available during checkout.
VAPCELL F12 1250mAh 14500 3A BUTTON TOP
The Vapcell F12 14500 3A 1250mAh is a rechargeable lithium-ion battery commonly used in flashlights and other electronic devices. It has a size of 14500, with an approximate diameter of 14.0mm and length of 49.0mm. The battery is manufactured by Vapcell, a trusted brand in the industry.
The manufacturer has rated the maximum discharge current of the battery at 3A, which means it can deliver a continuous current of up to 3 amps without any issues. The typical capacity of the battery is rated at 1250mAh when discharged at a rate of 0.2C, while the nominal capacity is rated at 1150mAh under the same conditions.
The nominal voltage of the battery is 3.6V, and it can reach a peak voltage of 4.2V when fully charged. The Vapcell F12 14500 does not come with any protection circuitry, so it's important to use it with caution and follow proper handling guidelines.
The battery features a button top style, which is suitable for devices that require this configuration. It is available in a gold and black color combination and is manufactured in China. Overall, the Vapcell F12 14500 3A 1250mAh is a reliable and high-performance battery that can power your devices effectively.
VAPCELL F12 14500 3A 1250MAH SPECIFICATIONS:
Size: 14500

Approximate 

Diameter: 14.0mm +/- 0.2mm

Approximate 

Length: 49.0mm +/- 0.3mm
Brand: Vapcell
Manufacturer Rated Max Discharge Current: 3A
Manufacturer Rated Typical Capacity: 1250mah (0.2C discharge)
Manufacturer Rated Nominal Capacity: 1150mah

 (0.2C discharge)

Nominal Voltage: 3.6V
Peak Voltage: 4.2V
Protected: NO
Style: Button Top
Color: Gold and Black
Origin: China