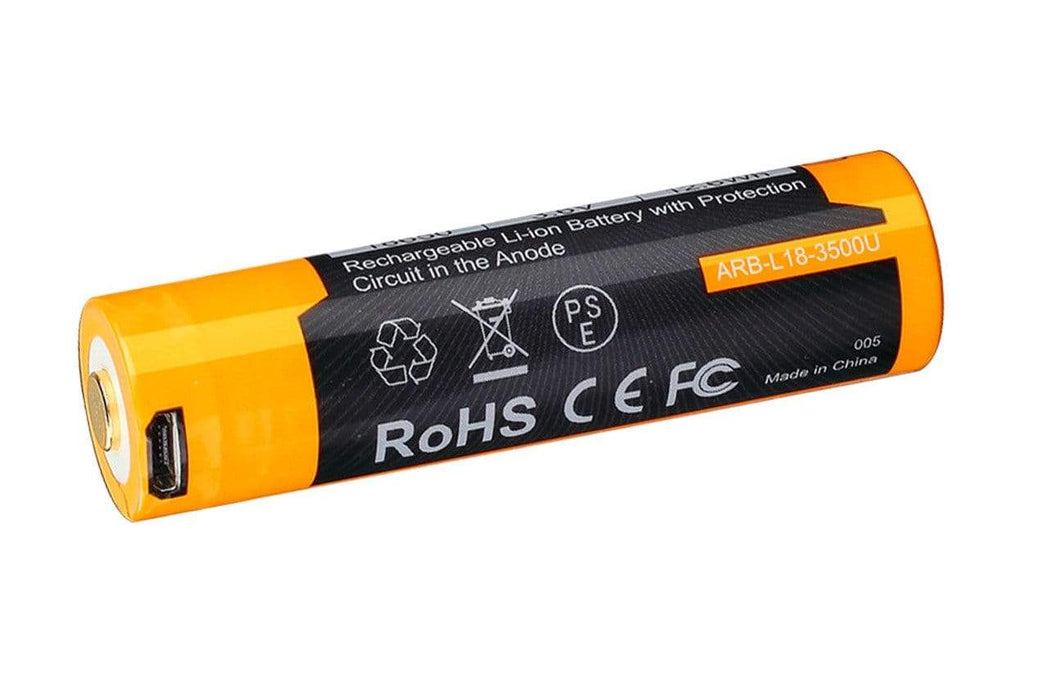 Fenix ARB-L18-3500U USB Rechargeable 18650
Sold out
Original price
$ 24.95
-
Original price
$ 24.95
Free shipping for orders over $100. Any order containing lithium batteries is at risk of abnormal shipping delays. UPS is highly recommended for any order containing batteries. UPS Ground is required for orders only containing batteries and not meeting the free shipping threshold even if other options are available during checkout.
The biggest and baddest Fenix battery just got upgraded! Please welcome the Fenix Fenix ARB-L18-3500U USB rechargeable lithium-ion battery! The ARB-L18-3500U battery can be charged by its built-in USB port or by an external battery charger as well. A protective circuit is built into the anode and covered with a riveted steel hat. The battery is fully covered with the steel shell; thus, the potential risk of short circuiting caused by collision or impact is hugely eliminated!
Fenix ARB-L18-3500U USB Rechargeable 18650 Specifications
Fenix ARB-L18-3500U mAh USB Rechargeable 18650 Battery

Micro USB charging port lets you charge the battery directly

Button-Top Design

Protection circuit built in the anode with a riveted steel hat. Riveted steel shell eliminates the risk of short circuit caused by collision and impact.

Pressure Relief Vent: Expels waste gas generated by internal short circuit. Expelling waste gas prevents a cell from inflating or exploding.

Three Sets of Over-Heat Protection:  Overcharge protection, Over-discharge protection, Short-circuit protection, and overheating protection

500 Charge Cycles: A properly maintained ARBL18 battery is designed to retain up to 75% of its original capacity at 500 full charge and discharge cycles.
**USB Cable NOT Included**
One ARB-L18-3500U Micro USB Rechargeable 18650 Battery
***Batteries purchased without any equipment they can operate must be shipped with ground shipping. If you purchase only batteries and no flashlights/headlamps you must select UPS/Fedex Ground unless your order meets the free shipping threshold.***