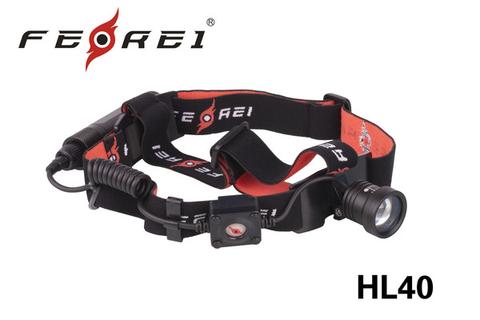 Ferei HL40 Headlamp Review



The HL40 is a lightweight headlamp that has excellent runtime and features a user friendly compartmentalized power driver / switch for added safety. In summary, the Ferei HL40 is the ultimate outdoorsman lighting tool suitable for camping, hiking, caving and fishing and is sure to provide you with reliable service and unbeatable performance for many years to come.

The below review was performed by /r/mcfarlie6996 from the /r/flashlight Reddit community. We want to thank /r/mcfarlie6996 for performing this in review. The headlamp was provided by us in exchange for the review and the headlamp will be given away to a lucky Reddit user.

Manufacturer Specs/Features
High-powered CREE XM-L LED with a lifespan of up to 100,000 hours.
Optical glass lens provides an effective transmittance.
Head part can be zoomed in for a flood light, or zoomed out for a spot light.
Aviation aluminum housing for effective heat dissipation.
Hard anodized finish resists scratching and corrosion.
Waterproof Grade: IPX-4
Fully adjustable elastic straps ensure a comfortable fit.
Lithium-Ion batteries can be conveniently charged by plugging the AC directly into the battery holder.
Can be used with larger battery packs for longer runtimes on high.
Intelligent circuitry incorporates over-discharge and reverse polarity protection.
Precise brightness control via simple single button interface.
Constant temperature circuit ensures its security.
Weight (without batteries): 140g (5 oz.)
PMMA optical lens
Beam Distance: 200m
Peak Beam Intensity: 20,000cd
| HL40 | 100% | 10% | 20% | 30% | 40% | 50% | 60% | 70% | 80% |
| --- | --- | --- | --- | --- | --- | --- | --- | --- | --- |
| Output | 540Lm | 54Lm | 100Lm | 160Lm | 210Lm | 270Lm | 320Lm | 370Lm | 430Lm |
| Runtime | 1H | 12H | 4.8H | 3.2H | 2.4H | 1.9H | 1.6H | 1.4H | 1.2H |
Accessories/Body
The packaging came sealed in plastic which after removing and opening you found another black box inside which was fairly solid and used hidden magnets to keep closed. I thought that was a nice touch for a quick access traveling case. Inside you found the headlamp, Manual, Warranty Card, and a Quality Pass Certificate dated April 7, 2015. It also has a slot to store a battery when traveling. It did not include any extra O-rings so that means that you need to take care of this light a little more and not to let the existing O-ring dry out and crack. Inspecting the O-ring on the battery compartment though, it came exceptionally lubed and can't see any issues of it drying out any time soon.
Continuing with the battery pack which is located on the back of the head, the threads are square cut and are very tiny overall but there's enough threads on it to ensure a tight seal. On the other end is where the cable plugs into which has larger trapezoidal threads for easier management when used with the optional larger battery packs that can be purchased for this light. The cable is coiled and has enough stretch to it that you won't feel it pulling on itself potentially causing unnecessary wear and tear. The straps on the light were a little troublesome to mess with but were very comfortable wearing once I got everything properly adjusted. There were no noticeable pressure points on the few plastic pieces located on the straps and the main front and rear pieces had foam on them for added comfort. I can't imagine there being any discomfort after hours of use. Additionally with the battery on the backside of the head, it offers a good balance on your head vs others that have everything on the front side. The only possible negative to this is if working underneath a car with low clearance which this might get in the way of your head resting on the ground or a creeper.
For a zoomable light, the head is quite small. Size wise, small is good. Output wise, small is bad which I'll talk more in the 'Emitter'portion of the review. The head position is very solid which you can adjust how tight of a grip it has with a screwdriver. The light does use notches to maintain its position so there's only 6 available positions to have the light in. Still, this offers more than enough angles to find a position that you are looking for. To adjust to the flood pattern you push the outer head/lens in towards your forehead and to change the beam pattern for throw you pull the head/lens outwards. While a smooth operation, it does feel grippy enough to stay in whichever focus position that you leave it in during your activities. The outer head can also freely rotate but you don't accomplish anything by doing this. I was fooled at the beginning thinking this was twist to zoom out and in and couldn't figure out why nothing was happening. Learn from my derpiness.
As mentioned about the zoom feature, this light uses an aspherical lens to create the flood & throw beam patterns. Protecting the aspherical lens is another lens covered in anti-reflective coating.
Although I'm not aware of replacement lenses, the smooth bezel and AR lens is removable but the aspherical lens needed a special tool for removal.
Overall the light feels well built and should hold up to most conditions with a few exceptions. The light is rated IPX-4 (splashing of water) so it should be fine with rainy conditions but anything more than that can and will damage the light. The reason for this is due to the zoom feature which forces air in and out as you zoom back and forth so there's a potential to force water in and out also if it in near the seal. With that said, try to avoid zooming in and out under rainy conditions. Additionally with this feature you'll have to be careful of dusty conditions which the superfine particles could potentially build up inside. For the average person though, there shouldn't be any worry about dust and your only real worry is keeping water out.
Batteries
The manual does not give a voltage range and only mentions 18650 batteries so I wouldn't use CR123 batteries unless contacting Ferei directly and seeing if it's ok. Upon inserting a protected cell you notice immediately that it's too long to fit in the battery compartment. An unprotected cell fits fine with no issues although the button-top MJ1 barely fit with paper thin margin. So if you can, use unprotected flat-top batteries because they'll put less strain on the springs which in turn will put less strain on the body of the battery. Too much pressure can cause an indent on the negative end although there shouldn't be any worry about the safety of the battery if this does happen.
The light only accepting unprotected cells did get me worried at first but after reading the manual they mention that the light has a low battery warning and an "intelligent over-discharge detection". They go on to mention, "If battery voltage reaches a critical lower limit, the HL40 will automatically turn off, at which time the battery should be recharged as soon as possible. Over-discharge of 18650 cells can cause irreversible damage to the battery and in extreme cases, cause the battery to inflate and/or emit a harmful gas". Upon further testing I can confirm that it does prevent the battery from overcharging. Although I didn't catch exactly when the light turned off, upon removing the battery I measured 2.95V which is above the danger zone(<2.7V).
The battery compartment can be removed from the strap when the light is used in junction with other optional battery packs. For added runtime you have the option to purchase their larger battery packs which include the following: the BP28 which is a 2×18650 5,200mAh battery pack; the BP483B6 which I believe is a typo in the specs and is actually the BP4836B which is a 4×18650 10,400mAh battery pack; the BP6836B which is a 6×18650 15,600mAh battery pack. The only thing I'm unsure of is if the battery packs can still attach to the back piece or must be strapped some other way. I can't imaging wanting anything more than a 2x18650 on the back of your head though. Considering the short cord on the headlamp, Ferei does offer an extension cable which isn't included with the optional battery packs.
It's kind of surprising just how different these two graphs are between Cooled and Uncooled this is definitely because of the thermal regulation built into the light. Considering this light only outputs 540 lumens though, I was really surprised to see just how low the Uncooled runtime dropped just to prevent from overheating. Although not visible to my eye, the zig-zag pattern in the 35-39% range was quite interesting which it must be rapidly adjusting for temperature. Possibly very sensitive although I'm not entirely sure how these are designed. The Cooled chart was a surprise to see considering it stayed above 90% for 70 minutes. Seems like this light would be ideal for cooler temperatures(not below freezing). Because it maintains that high output for so long though, it drops quite suddenly after 70 minutes with only last effort at the end.
| Ferei HL40 | Cooled | Uncooled |
| --- | --- | --- |
| Runtime to 10% | 2h 43min | 5h 4min |
User Interface
The HL40 is quite impressive in this area while still being quite easy to operate. One click for On which will always turn on in Max output. Sometimes a good thing, sometimes a bad thing. Click again for ~Low(unknown output), click again for Off. There's also a 'User-defined' output: from On, press & hold to change to 10% output which if you continue to hold it'll continue to increase to 20%, 30%, 40%, 50%, 60%, 70%, 80%, & repeat. From which ever percentage you stop on, the light will always restart from 10% when cycling through the user-defined modes.
I was actually impressed to see a UI as such and think it's a great feature in a headlamp giving the wearer plenty of options to select his desired brightness for the needed task. I would have liked to see a lower low though since having a moonlight (≤1 Lm) mode would be ideal for things such as checking the tent while not waking up others, reading a book, etc. The low is low enough though that you wouldn't feel blinded when reading a book when in full flood mode.
The light also has 4 flashing modes which are "police blinking", slow blinking, fast blinking, & SOS. I quoted police blinking because that's what's written in the manual but I'm not entirely sure why it's called that because it's a 3 flash rapid burst every ~1.5 seconds. Personally this might better for something like biking to be used in combination with a bike light just so others are more aware of your presence.
The slow and fast blinking actually have the same interval (1 sec) between flashes but the duration of which the light is On differs. The fast is a quick burst while the slow is on for half of the interval. And finally SOS is just SOS. The light does have mode memory for the flashing modes which is nice to see. You can also press and hold to continuously cycle through the flashing modes without having to release the button after each change.
The unique part about the flashing modes is that you can control the output. You do this by first going to the main modes or the user defined modes and turning the light Off in the brightness you want. So if you wanted the flashing modes to be 30% you'd click to turn on the light (max output), press & hold the side button to get into the user defined mode (10%), continue holding until it switches to the 30% output, and then turn off the light. From off press & hold the button to get into the last used flashing mode and it'll then be at the 30% output.
Emitter
The light uses an XM-L emitter which is a little disappointing to see. Cree created the XM-L2 emitter back in Dec. 2012 which is the new and improved version with 15% higher output when driven at the same wattage. Ferei definitely need to stay current with technology, especially since there's now emitters that are better than the XM-L2. With that aside, the tint is beautiful on it which is a surprise to see a headlamp offered in NW. They have both a Cool White & Neutral White version of this light which personally I would definitely avoid the Cool White version by any means necessary. My experience with the old XM-L emitters made me dread ever buying another one. The Cool White tints on the XM-L were much much cooler than what you see on the current XM-L2 emitters. So while I can't comment directly on the tint of the Cool White version, I'm quite relieved and very excited to see the Neutral White tint on this light. It's always nice to have options which there are some that prefer the Cool White tint. The advantage of Neutral White is that colors look much more natural as seen during the day. Lights that are heavy on the Cool White tint are quite bothersome on my eyes.
The beam pattern is very nice when in full flood(20m) which is one of the great things about zoomable lights, the lack of a hotspot.Maybe should have taken a closer range shot. It makes it ideal when doing anything up close because you see everything near you at the same illumination vs other headlamps which will have a concentrated hotspot which is much much brighter than the spill. And then in full zoom mode there is practically no spill meaning that you won't be able to see what's directly below you if angled further up the path. The one thing I noticed is that the light doesn't zoom out as much as others so it has a roundish square pattern to it vs others that have a more defined square beam. Although the defined square isn't the most appealing, it would have a little tighter focus giving it a slight improvement on throw. Using the other SK68 XM-L2 zoomie as an example, I calculated that there'd be about an 11% improvement in Candela numbers if it were to fully zoom out.
So I've come up with a few discrepancies in their specs. They claim that the light throws "over 150 meters" but also list the maximum intensity to be 20,000cd which if you do the math it equals 282m. So while they're technically correct, saying "over 150 meters" is quite different from the measured 282 meters, that is if they actually measured it or are just wildly guessing. Additionally, when I measured the HL40 with my light meter I only measured 123m of throw which is a bit less than 150 meters and no where close to 282 meters. Even with a different emitter such as the smaller XP-G2, you probably still wouldn't exceed 200m even though it would still be an improvement. The light would need to be redesign with a larger aspherical lens if Ferei wanted it to actually match their claims.
| HL40 | Measured | Claimed |
| --- | --- | --- |
| Throw | 123m | 282m |
This next part might boring...
As mentioned before, size matters but not how you'd think. This is because of how zoomable lights work since there isn't a reflector inside of the light. An XM-L emitter (and many others) has a viewing angle of 125° but when you zoom out on the light you reduce the angle that light has to escape which means less overall lumens out the front. A typical reflector redirects the light coming from the side of the emitter and shines it out the front, but since there's no reflector in the zoomable light, the light emitted at the sides of the LED are lost. So while the light is rated to have 540 lumens, you might have only half of those lumens escaping the front when you're zoomed out and most likely less because of how small the aspherical lens is. With a larger lens you have a larger opening for the light to escape from thus giving you a brighter beam and therefore more throw but it's still not much of an improvement overall when you consider the angles.
You can also do the reverse and get a smaller LED which is why lights like those $4 Cree AA lights are so popular. Those use a much much smaller XR-E emitter giving the light over 200m of throw (with a 14500 Lithium-Ion battery). These smaller LEDs aren't as efficient though and have a limited overall output so they're not exactly ideal for something like a headlamp. Considering the current output of this light though, the slightly smaller XP-G2 emitter would be perfect in it giving it improved throw with only a ~4% decrease in runtime and no loss in overall output brightness. If they decided that they wanted to increase the output though then they should put an XP-L HI emitter in it which the flat dome should help a little with throw. They should also increase the size of it just by like a quarter to a half inch which the larger size would also help with the heat too.
Conclusion
I have to say though that I'm quite impressed with this light overall. When there was first talk of me reviewing this light I thought that it might be a decent light at best considering my previous experience with zoomable lights but now I would easily say that I'd recommend this light to those looking for that zoomable feature. It is much smaller than other zoomable headlamps that I've seen online and the built-in low voltage protection and the thermal regulation is an added bonus which is typically only found on higher end brands such as Armytek & Zebralight. Obviously there's still room for improvement which I covered in quite some detail, but I definitely wouldn't say that those things that need to be improved on should prevent someone from purchasing this light, that is unless you need more throw than the 123m that it offers.
Pros:
Zoomable
Great flood beam
Neutral White tint ftw
Comfortable
Compact
Low-voltage warning & cutoff
Thermally regulated
Optional battery packs for extended runtimes
Cons:
Uses outdated XM-L emitter
Doesn't throw well for a zoomable light
Measured throw doesn't match claimed throw
IPX-4
Straps are a bit of a hassle adjusting
Doesn't take CR123 batteries.